23 September 2005
WWII Veteran launches In-Honored-Glory Website !
On 23 September 2005 WWII veteran Maurice B Johnson from Minnesota, put the In-Honored-Glory website officially online. Maury performed the official opening during his visit to Europe.
During his stay in the Netherlands he payed his respects to the friends he had to leave behind in World War II. His friends PFC Francis Riggins, S/Sgt Clarence Wiegman and S/Sgt John Doxey, are buried at the cemeteries of the Netherlands (Margraten, NL), Lorraine (St.Avold, F) and Henri-Chapelle (Hombourg, B).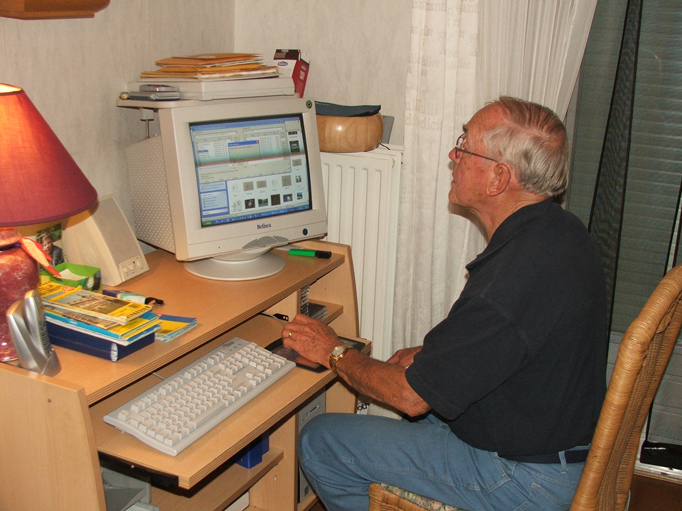 Maury Johnson launches In-Honored-Glory website
Maury Johnson started his training in the 17th Airborne Division, before he transferred to the Air Force to be trained as a B-25 pilot. Because there was no need for B-25 pilots anymore, Maury was transferred to the 87th Infantry Division where he was assigned to an Anti-Tank Unit, because of his anti-tank training in the 17th Airborne Division. In his Gun crew he was First Gunner of a 57mm Anti-Tank Gun. When the Anti-Tank units were dismanteled early February 1945, Maury continued his European Tour as a "Bazooka-man". On 27 February 1945 he was knocked-out of the war by German Mortar fire.
Maury Johnson returned to Europe earlier in 1988, but he never visited the graves of his friends.
Peter Heckmanns
Webmaster In-Honored-Glory website